Hello from South of Italy!
I finally managed to escape the city and head South – to Calabria where I will be spending another week (one is already done) trying to catch up with sleep, get tanned and stay in shape. However, it has been really difficult as the cuisine is just divine and you wan't to try everything and the constant heat is not letting you to work out either… not even mentioning that all gym's has been closed down already.
Although I am not giving up, trying to work-out with a free body, move as much as possible, learn to swim (yes, I am not really good at this), play beach sports and go hiking. So at least my conscious is clean that i am not letting myself go and won't have to kill myself in gym next week when will come back in the city.
 As someone who has never been to South of Italy and experienced the culture, lifestyle, cuisine and nature so I am getting pretty "snappy" with my Nikon as want to catch every single landscape and moment as one is more exciting and breath taking than other.
Enough talking, here comes some pictures of past week of what I have seen in Calabria.
First thing I noticed was mountains and valleys, olive trees and vineyards – things that I have only imagined and never really seen them in real life just in Italian movies. But here they were – standing casually along the road.
view from the mountains
For me it was really strange to be "above the clouds" something that you do not see everyday.
Olive fields
Vineyard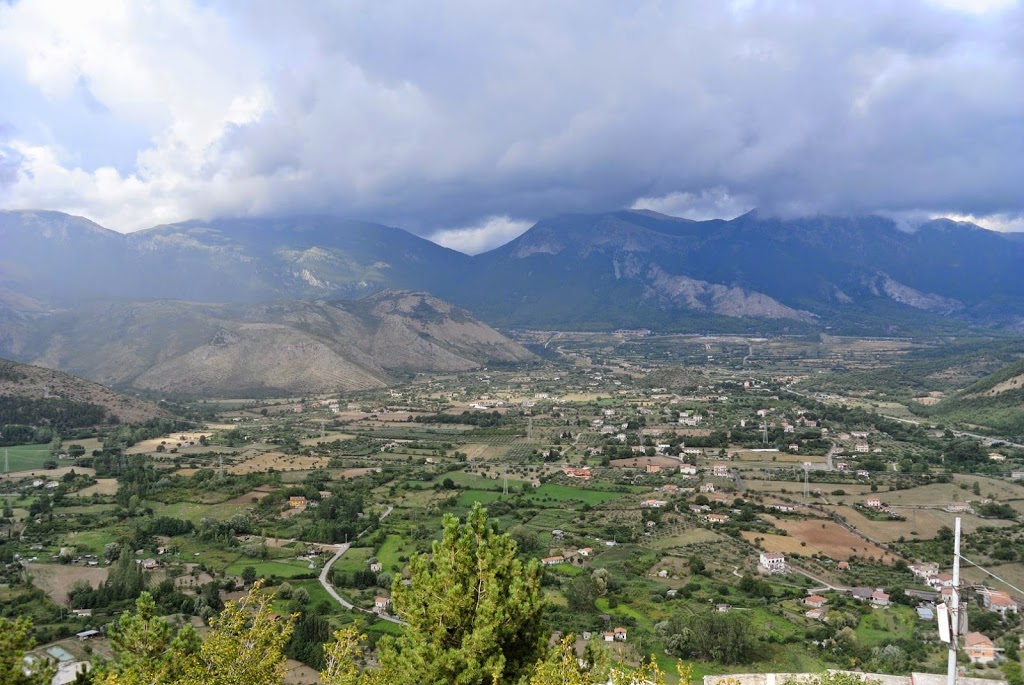 Morano Calabro 
A view from a Morano Calabro city with a beautiful castle to oversee the land.
The sky before rain
The color combination between land and different kinds of blue was really something and must be captured.
Castello Normanno-Svevo in Morano Csalabro city
and this is us at the top of the castle
Out destination was Castrovillari, a nice city hugged by the mountains in Cosenza province in Calabria.
View from top of the hill in Castrovillari
Castrovilalri
Behind me there is 3 mountains which, as locals know telling, is shaping a sleeping lady's body.
Castrovillari
Timer, so far has been a great help to capture moments all together (together with a rock I found to make right adjustments to take better pictures. Considering to bring it back with me to Milan, still not sure if people won'r find it odd me carrying around a random rock to take pictures).
Beach from the city is just 20 minutes drive away through the mountains. despite the curves and going up and down all the way is totally worth it to catch up with tan.
Hammock
This is called vacation – being all lazy in a Villapiana beach. It is my first day at beach so you can see that I am completely white. the upcoming days I just "worked" on my tan.
After couple of the days in area and nearby cities we went to explore opposite coast – Praia a Mare.
Christ the Redeemer in Maratea, Italy
Christ the Redeemer in Maratea, Italy
The view from the mountain top where is placed Jesus statue is just breath taking even more charming in sunset.
Sunset in mountains
Sunset
the view of other side of mountain
All day we spent to nearby city – Praia a mare which has a beautiful island just near the coast with a lovely hotel and restaurant to enjoy the island completely. The Island's name s Dino which has given after to the owner of it. The island has also a cave with clear blue water which has it's name after it –
Grotta Azzurra and other one – Grota del Leone
(as there is a lion shaped statue inside it).
A boat that takes to an nearby island tour
This was our organized boat to take around the islands and give a short insight about the story of the islands and brief history. The price per 2h trip was 15eur per person and they give you even chance to see swim in the caves.
Island of Dino
This is the famous island of Dino which has been bought for 25.000 Eur! That's an incredible bargain!
Madonna's miniature statute in one of the island's caves
The statue has been put up by sailors to bring them luck and give a blessing.
Dino's Island
Entrance to azure cave – Grotta azzurra
It doesn't really seem like an entrance to a cave from here, but wait when you come closer..  It is just amazing, especially when the sun is shining in. the water is crystal clear and seeing fishes  with a bear eye deep down till the bottom of sea is easy and fun.
Fishes in Azure  Cave
Moving forward we come to other side of the island which opens a view to hidden beaches with a mountain trail where tourists and locals seeks for a piece and relax.
Indeed the beach was not packed and therefore could be enjoyed fully.
Hidden beach

 
view from the trail crossing the mountains
To cross the hill you had to be ready to hike, which was not the easiest thing to do in bikini and flip-flops but with a little awareness and paying attention where setting your foot the effort made was definitely worth it when you saw the view from above.
This is it for the first week. the second week and impressions, views and feedback will follow up soon.
Stay relaxed, stay tuned and enjoy summer! I am going back to work on my tan! 🙂