I did it! I finally did it! I tried Alpine skiing (in Alps). I've been living in Milan for over 2 years now and i had never been there. So few weekends ago received a proposal of friends to go skiing to a lovely city  near Trentino – Folgaria. As my friend has rented an apartment there that it was even easier to enjoy all weekend and do not stress about finding an accommodation (which, I must say during winter season is pretty tough).
We went to this nice resort (click
here
). also the prices were really good a lot cheaper than it would be even closer to Milan.
as it was my first time Alpine skiing than without falling (a LOT) you won't learn anything. But as my friends were laughing that I have a snow chromosome as it would be the only explanation why I am so good after few hours already! As I used to ski (cross country and small hills) every winter since I was 3, than I think it was a lot easier to learn.
Here are some pictures from the adventure.
The snow happiness
me before going Pro
road to Folgaria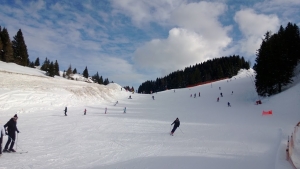 challenge accepted
While being up and skiing I used this cool sport tracker application called Endomondo (click here). it's really great app if you are doing sports and want to track your progress and see your stats: average speed, burned calories(!!) performance, time, etc. they even draw map for you and you can challenge others as well as set your own goals. try it out!
view from the 2500m
the snow team
Recognition of the trip – when doing physical activities in a good company you burn as twice as much calories as you would alone! and winter sports definitely burn a lot of calories!