If you have ever tried circuit training you know how effective it is! (Yes, leaves you breathless and makes you wanna collapse on the floor, but, oh, boy, how it works wonders on those booty shaping and fat shredding and makes you sweat).
Last Sunday I had a pleasure to be in couch position and make some blonde ladies to try out this fun circuit training together in one of sunniest Milan's parks -Parco Solari.
The workout was aimed for all body parts and for some deep fat shredding. (Which is never bad,am I right?).
So here is the circuit to try for yourself – promise, it will burn and make you feel those sore muscles day after! And best part – you don't need any equipment, just a mat.
Circuit training routine:
Circuit consists of warm up, 4 rounds per 3 exercises performed 3 times each in a circuit without pauses, cool down.
Warm up – 5 min. (Make sure you properly warm up with some light jog on place, some high knees, some arm circulation, leg stretching , back stretching before you go.
Round 1
5 push-ups, 10 crunches, 10 side lunges (each side 5).
10 push-ups, 15 crunches, 16 side lunges (each side 8),
15 push-ups, 20 crunches, 20 side lunges (each side 10)
Rest – 1,5 minutes
Round 2
10 mountain climbers, 10 bicycle crunches, 20 glute bridge
12 mountain climbers, 12 bicycle crunches, 30 glute bridge
14 mountain climbers, 14 bicycle crunches,  35 glute bridge
Rest – 1,5 minutes
Round 3
5 burpees, 20 sec plank, 5 squat jumps
6 burpees, 25 sec plank, 6 squat jumps
7 burpees, 30 sec plank, 7 squat jumps
Rest – 1,5 minutes
Round 4
15 sec sprint on spot, 10 see-saw plank, 12 sumo squat
20 sec sprint on spot, 10 see-saw plank, 14 sumo squat
25 sec sprint on spot, 10 see-saw plank, 16 sumo squat
Rest – 1,5 minutes
Stretching
To make things easier – here is a glossary with most challenging exercises:
Here is how to do correctly Burpee (by Popsugar Fitness)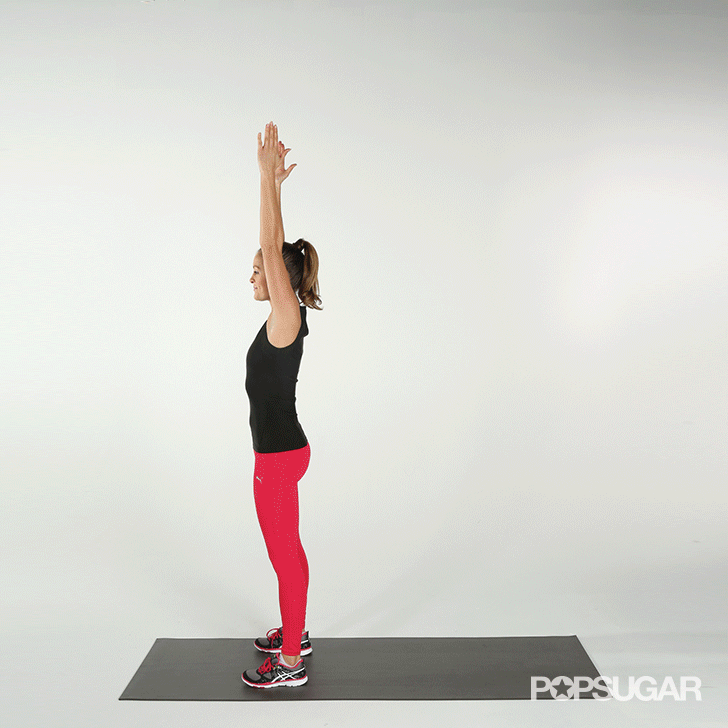 Can skip the push up part, if too challenging.
Jump Squat explained by Fitness magazine
Sumo Squat explained by Fitness magazine
Make sure you do it slowly. Stay second or two low and contract your glutes when you get up.
see-saw plank
If wish to make this circuit training more challenging – repeat each round 4 times and can try adding some weights/ ankle weights.
Now we all listen to the song- Gonna make you sweat! And let's try this at home!
HAVE YOU TRIED CIRCUIT TRAINING BEFORE?