In every trip there is a highlight – in my Thailand getaway it was definitely island hopping and exploring myself the famous Maya Bay where was shot the famous movie " The Beach" with Leonardo di Caprio. Of course exploring this islands was kind of dream-come-true.
As we were at Phuket on peak season – Christmas holiday period than of course it was packed of tourists and that was the reason why everything cost at least double and was fully-booked. Therefore instead of 2 day trip around Phi-Phi islands with sleepover there we went for a day trip, which I must say was not bad at all.
We were pretty lucky as we got a great discount from the original price of a speedboat trip (the best way to go around the islands) because we got it organized by our Apartment owner who seemed knew everyone. And of course, everyone had their own personalized price to pay on the boat as nothing is fixed there but depends on your personal relationship with the local representative (hotel staff, friends or regular advertisement).
Our trip started with an home/hotel pick up and heading to port where we got read all the safety instructions and introduced to our tour guide – Sunny (which was really sunny and fun person) with some morning coffee and snacks.
Our first stop was a smile, lovely island – Khai Nok where we could go for a swim or just relax in the sun.
After a pleasant swim we were enjoying the island and the Bob Marley style beach bar.
After a lovely break enjoying a fresh coconut (which I was slightly addicted to during my holidays – had to have one a day), we headed to our next stop – was Ao Ling –  Monkey Bay. Due to a high tide we couldn't get off to the shore and enjoy the beach with monkeys living there but we got the feeling. Pretty amazing view seeing all those monkeys laying there.
So after a short stop we headed to our main stop – Koh Phi Phi Don for island exploring and lunch break.
These signs of evacuation was put up only few years ago after the catastrophe 10 years ago where tsunami "cleaned" all the island and took thousands and thousands of lives and swept away all the island leaving it destroyed and devastated.
This is what i tried to capture with my phone and managed to show the true panorama of the place.
Paradise Pearl bungalows with a sea view is something that really makes impression and definitely worth trying.
Actually enjoying the Phi Phi don was pretty difficult as it was so packed with tourists and tourist boats that hard to stop and reflect the beauty of the place. I guess sleeping over and waking up and seeing sunrise it would make a completely different impression. So something to include in my Travel Bucket List.
Our next stop of the trip was a Viking Cave where are the edible birds nests coming from. They are among most expensive animal products consumed by humans in the world and costs are around 2,5000 USD per kg to end consumer. Mostly used in Chinese culture. (No wonder the cave are protected by armed guards that do not allow people to get in it)..
Heading on was our moment of relax, sun and snorkeling time at Hin Klang.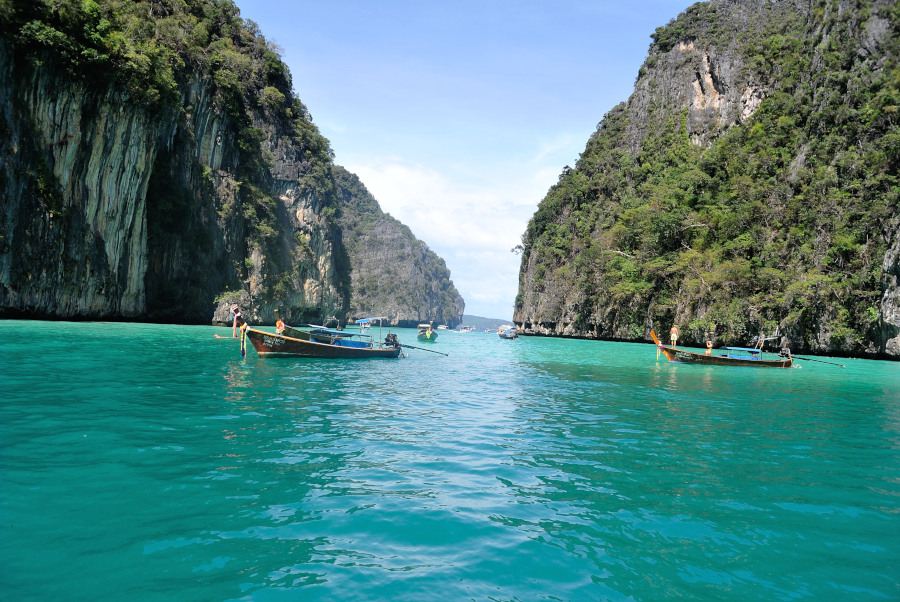 After refreshing swim and sun we went to our last stop – Phi Phi Leh and Maya Bay – the aim of the trip.
Unfortunately also here taking pictures without distractions and photo bombs was impossible, therefore here where I will stop sharing my island hopping adventure in pictures.
However I must say it is definitely worth visiting the islands and place but if you want to have some peaceful time try to avoid the crowds and hit the place in peak seasons to grasp the true beauty of the place.
p.s. if wondering how looks sunset over the Andaman sea from phi Phi islands – than it is something like this..