It's been over a week that I have been back from Japan but the impressions are still live and vivid like it was just yesterday.
This trip came as pretty big surprise to me as it was kind a last minute announcement from my company to join our company's bi-annual Expo in Tokyo (Sanrio Inhouse Expo)  and an offsite meeting in Kyoto.. So you can imagine HOW excited I was. Like a little girl before Christmas or Kevin from Home Alone.
What a thrill was to go to see the land where Hello Kitty was born with my own eyes and to see Tokyo with my own eyes. I must say it is even more colorful, crazy, hectic and advanced than I could ever imagine. but the same time so safe, so clean and organized.
The flight was long and tiring and didn't even manage to close my eyes for more than an hour therefore arrived at my destination pretty destroyed, but after hotel check in, quick shower and outfit change I was ready to hit the city. With which I mean I was ready to go for first meetings and Store check.
Hotel Check in and checking myself out before hitting the town
In late afternoon and after all the blinding city lights, colors, people I started to get pretty tired and sleepy but still could resist and continued my store check cheerfully.
Tights and stocking paradise is in Tokyo
The ones who knows me are aware of my passion of cute, colorful, trendy and fun socks, tights and stockings I have in my collection so you can only imagine my thrill seeing all these lines of socks in department stores – ahhh a Paradise.
socks paradise as well
The same for the socks. So colorful, fun, cute and playful. just you want them all and want to make your feet happy and show off.
Of course as a culture where the shoes comes off at the house doors right before entering a nice pair of socks is an nice idea for a conversation starter.
Luckily dinner was scheduled pretty early as we were kind a starving after the long trip and working all afternoon.
Traditional style Japanese restaurant
We were taken to a quite but trendy street right near of Shibuya (the district where we had our hotel) where we could have a nice peace of mind and enjoy our traditional Japanese dinner.
After a delicious dinner we were heading back to our hotel – Cerulean Tower Tokyu Hotel. On our way we had a glimpse of an Japanese socialising after work and side walk bars.
Traditional Japanese bar at Shibuya
Even if I felt like walking dead and sleep walking the curiosity to see the view from our hotels 40th floor was stronger than me.
..and I was right – the view was definitely worth seeing. Pity that couldn't manage to sit down at their famous restaurant on 40th floor as it was too late but still managed to catch a glimpse from above.
view to Tokyo from above in the night
Tokyo at night from above
My room was at 23rd floor and I can say that my view was not bad at all.
The next day we were off and running to our in-house Expo, meetings and some more meetings.
Sanrio Expo 2014
A nice review of the Expo you can also find here.
Blending in
I tried to blend in in the Expo as a mannequin but unsuccessfully but turns out I shouldn't move and stop smiling to make it more believable.
rice triangles
Even when travelling I am trying to stick to my diet therefore for lunch I looked up for a healthy food store and got myself a nice rice triangle and salmon with seaweed to get my daily protein and good carbs. and in top of that managed to save money + ate clean. Really proud of myself.
Salmon with seaweed
Luckily half of the food packaging is transparent and I was able to spot and choose things without finding someone who would translate it for me as in Japan is pretty tough to find someone speaking good English.
Before dinner we had two hours free to see near district so we went to near Yoyogi park.
Yoyogi park selfy
Yoyogi park
already getting closer to the entrance in the park we instantly felt the serenity and silence that isolated all the sounds from the street and the city and made you feel like you are in other dimension – more calm and peaceful.
Heading to the shrine we found a wall of Sake barrels from typical brewers as an exhibition and reminder for keeping alive Japanese traditions.
Sake Barrels
Sake barrels
Coming closer to our destination we stopped at a place where you can purify your soul with a clear water by washing hands and drinking a sip of the clean and running water.
purifying water
Add caption
The place for me was something amazing, relaxing and just so great. we were even lucky with the lovely afternoon sun that shined above us making everything even more magical.
Meiji Shrine
I kept on having feeling and imagining how it was centuries ago when people really lived there, worked and prayed there. something that makes you travel back in time and put yourself in their shoes.
wall of prayers
For a good fortune and getting hopes come true there are a wall of prayers where everyone could put their own good thought or prayer to get it fulfilled.
Even if I would have loved to stay there for hours and get my mind relaxing I knew the time is thick but Tokyo is so big, so tried to managed as much as possible and headed to near Harajyuku shopping street where you can see various styles, colors and cos-play costumes. eat and shop till you drop.
Harajyuku Takeshita street art
Takeshita street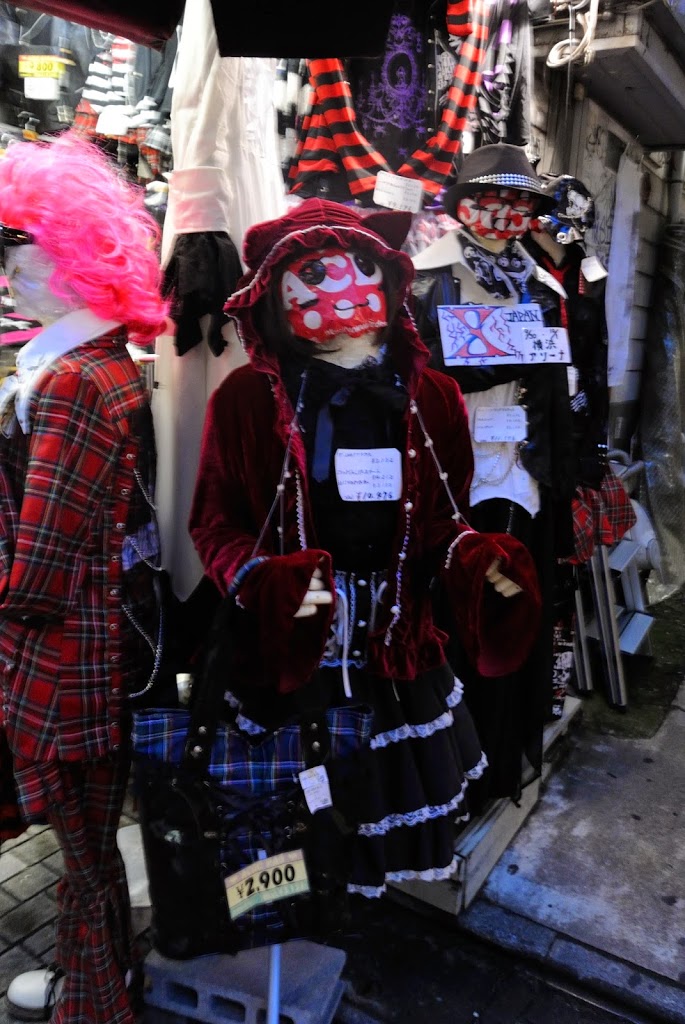 Cos-play Costumes
As two days before there were a grand opening of a Sunday Jam X Mister Man cafe than we headed also there to see it for ourselves and have a quick rest with a cup of coffee to share our impressions.
Sunday Jam in Harajyuku street