My London trip has come to an end so it is a time to continue with my Japan story so can catch up with timing and switch to my European adventures.
The second part of my Japan unexpected meeting took us to Kyoto – an ancient Japan's capital a city full of UNESCO heritage objects. Indeed it is an amazing city even more beautiful than I have imagined from the movies and books.
(One of my all time favorite books is
Memoirs of a Geisha
 which gave me a small preview of a life of a geisha back in 30ies, strolling down the narrow streets heading to a fancy dinner party and life back in than in general). Actually Kyoto is still an active geisha district where, if you are lucky, can see a real geisha heading for a dinner appointment).
On our free time we started our sightseeing (2 hours) tour with old part of the town and than heading to temples and shrines.
Japanese rickshaw
Even if tempted I couldn't  imagine myself trying a rickshaw. Just thinking of a person carrying me around feels just wrong. But even if this tradition is not anymore as popular as used to be in Kyoto it is still alive. So you can go and try it for yourself.
Sweet shop window
Had never something like that – exposed in a window on every bakery or restaurant for potential customers what the place has to offer. slightly odd but pretty useful.
umbrella
It was a really advanced umbrella which shows a patter once wet. Isn't that an original idea?
Geishas
One of a nice thing to do in a Kyoto is to rent a kimono and become a geisha for yourself. there are several rental places that offers this kind of attraction and depending of your wish you can even have your makeup and hair done together with a perfect gown.
As we had such  limited time than we explored only the eastern part of Kyoto where the also Kiyomizo-dera temple is located. it's a complex of temple and the view (as it is in half mountain) is just breathtaking.
Kiyomizu-dera
All the park and "dera" was a place where you can wonder for hours and find your inner peace, fix your thoughts or just get away from everyday life – that how peaceful was there.
Kiyomizu-dera  – Bell tower
Luckily for us, we did not feel like typical tourists as we had our Japanese colleagues with us that made this trip more memorable and more real.
me and my Japanese colleagues
in front of steps to find a true love
One part of the temple garden you can also find stairs to find a true love..
Otowa waterfall
The Otowa Waterfall, where visitors can drink the sacred Otowa Water from a ladle to purfy soul and clean mind.
Kyoto eastern side is full of small artist shops and narrow streets
After our little afternoon Kyoto exploration we had to head back to our hotel (
Kyoto Royal hotel and Spa
. you could have a wonderful massage there but unfortunately were so tired and on so tight schedule that could not manage to have a real Japanese massage – pity. Next time!)  and finish the evening with a company dinner at a
Ganko Takasegawa Nijoen
restaurant with original 400 old Kyoto garden with a river view. (This place is every foodies dream destination to try out excellent and traditional cuisine in a place that is included in UNESCO heritage.)
As it was an official dinner I did not feel to comfortable to take pictures of the place, food and interior.. but trust me – everything about the place was wonderful, delicious and lovely.
The day after we headed west – outside Kyoto to have a our Kimono experience in Arashiyama.
rows and rows of kimonos ready to be rented out
First stop was a Kimono rental place where we could choose a kimono and get it dressed up together with a little hair do.
Kimonos everywhere
I had a love at first sight – a blue summer kimono with white flower pattern.
my blue kimono
At first I had a quick and a soft hair-do made by one of the ladies working there but it was not good enough to the elderly lady (manager of the place) so she re did all my hair herself.
One of those movie moments when you think – is it really happening to me?
the lady had a strong grip, she opened my hair, and quickly brushing them (without mercy, like strict nannies would do in movies)  said things in Japanese to other ladies working in the place meanwhile trying to fix up my hair up high.I must say I did not mind and just let go the flow and enjoyed the moment like a real geisha. She fixed me up pretty with a nice flowers added on top and I was ready to go to the streets.
Kimono
And voilà – my new hairdo and a red lipstick was exactly what I needed to finish up my look. I am not really good with make up but knew that a red lipstick will be a nice touch…and it was! Had a lot of looks and compliments on the way.
Of course we draw a lot of attention to ourselves as we were a mixed group everyone dressed up in kimonos.
my obi and lovely hairdo
It was a really hot and sunny day therefore a nice summer kimono was exactly the right thing I needed that moment.
Traditional kimono with obi
My Japanese colleague did look great in his man's kimono as well.
One of most spectacular places I have ever seen was the most important Zen temple – Tenryuji.
Tenryuji temple
Ternryuji temple garden
This place is really a special as it changes its colors depending on season. As we went mid September we could already see the trees changing their colors to golden and red.
After this small getaway we headed back to city to have a nice …steak for a lunch. To get the best steak you must go to Misono which happens to serve the best steak in Japan which is cooked in front of your eyes. Kyoto is famous for their beef and food critics but even they find this place great.
 Chef of Misono
Chicken as a starter
Was great to get a taste the result of their years and years of experience and mastering the cooking skills. Our chef had been working more than 25 years and was really an expert.
chicken with asparagus
beef with crunchy garlic
..and than was cooked our main dish – beef.
seasonings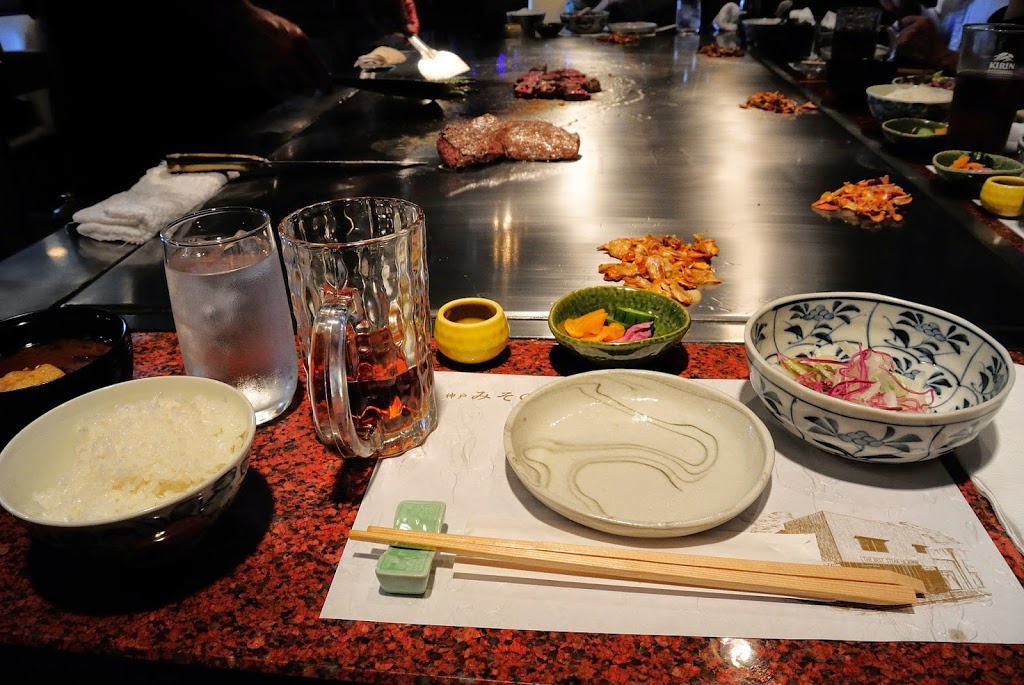 lunch table at Misono
beef and garlic
Even remembering this meal I have a strong will to return back in Kyoto and have all this experience once more but lived properly and explore the whole city but for that you need at least one week.. so this is something I am putting in my bucket list – comeback in Kyoto – the most charming and enchanted city I have ever been.
Third and the last part of my adventure is still missing but soon will follow, so stay tuned.