No, no, we are not lost, we have been just enjoying the last 2 destinations – Florianapolis, or, as they call it – Floripa and Porto Alegre.Florinapolis weather was not too friendly with us, so we cannot say we will return with a tan to die for :P, however, it has been great for visiting the city, relaxing, enjoying the street art and artist performances and just to relax after the long way.
yesterday we officially hit the 6000km limit. so it is in a straight line half way from Porto Alegre till Riga. Impressive, right?Porto Alegre, so far, from all the visit cities is my favorite, cannot even describe why, but it just feels nicer and safer and well – sunnier 🙂 sounds strange, but just having this feeling here.
yesterday we went to this AMAZING Christmas town –
Gramado
 .
of course we have tried a LOT of free chocolates there, as in every single candy and chocolate shop they give them 😛 also the light show was just spectacular – street light enlightening and,and,and – EVERYTHING. must see!
so today last day here and tomorrow plane back to Italy.
oh, and one more thing – let' s find a hammock today and attend a party at my Erasmus friends who are living here – Gabi and Deborah 🙂 together with other Erasmuser and friend – Paulo 🙂 who has been our humble and awesome driver for last 3 weeks…
hmm,start thinking to stay here and maybe learn to surf and, and,and do nothing 🙂 hehe
I am really loving here will be hard to leave all the adventure and fun and and and everything behind tomorrow..
but must say it has been the time of my life, and will cherish it forever. thanks to everyone.
Foggy Floripa
Stone- runaway queen
fisherman village
Paulina
Blogging time
the Brazilan/Bumbieri family 🙂
Antonio
Beach day at Canasvieiras
piggy
Surfin' birds
bull racing
a lil' yoga before surfing
failure of surfing
..so instead..well we..amm..capoeira
yoooouu, better look out, you better watch out…
flower power
Santa' s lil'  helper – happy helper 🙂
rain of Santas
Christmas time
evolution – phase 1
evolution – phase 2
sometimes i feel like a waterfall
draudzinsh 🙂 – this is how the trash-men looks here 🙂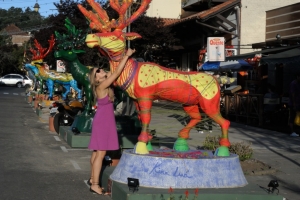 don' t leaaavvveee meeee
Santa' s sister 🙂
Gramado main X-mas tree
..after the fake snow shower
Chocolate time